Abraham Lincoln High School
|
home




Elementary School Photos

To Contribute a Photo E-Mail It To Me.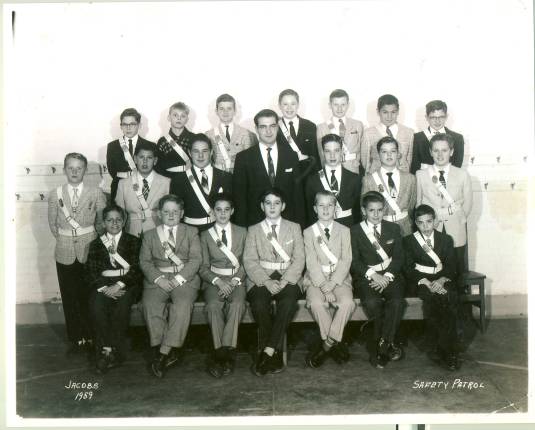 Farrel Elementary Conributed by Steve Dickstein 6/65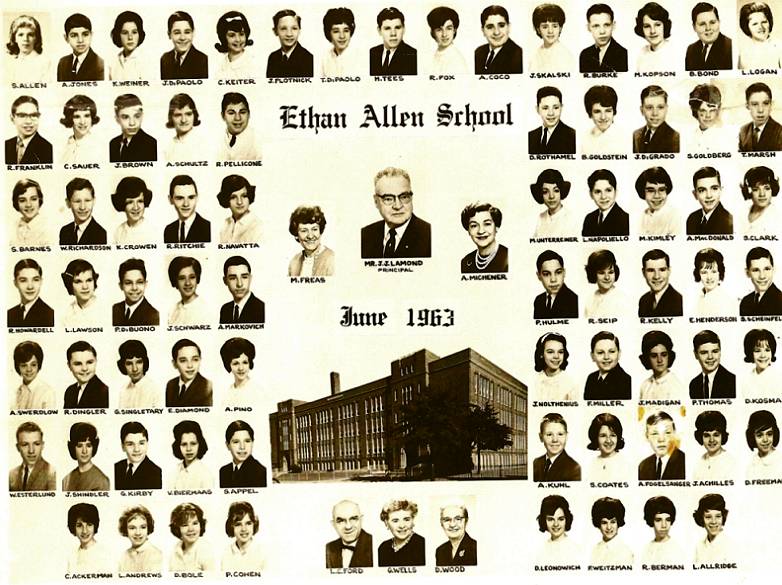 Contributed by Tom Marsh 6/67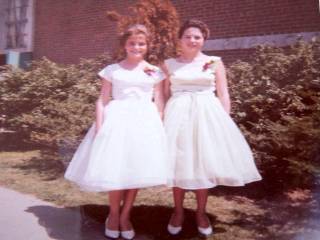 Ruth (Wiand) Gaal and Barbara (Williamson) Nacci Mayfair School 1959 Graduation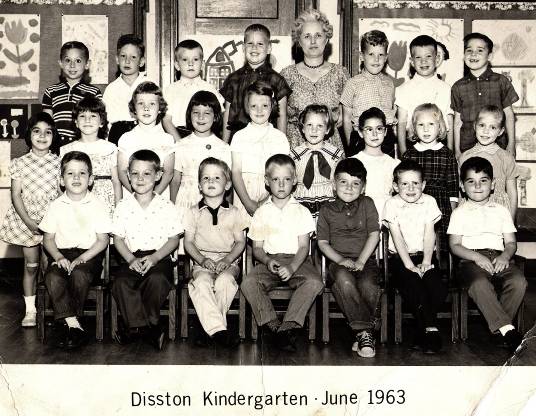 Sumitted by Patty T.

Row 1 Michael G, Mark M, David M, George M, Bill T, Michael S, Jimmy D
Row 2 Dolores N, Patty T, Mary Pat M, Dottie, Emily N, Nancy L, Theresa B, Debbie M, Vicky M
Row 3 Perry T, Charles, Tommy H. Billy T, Mrs Callan, Allen R, Billy, David P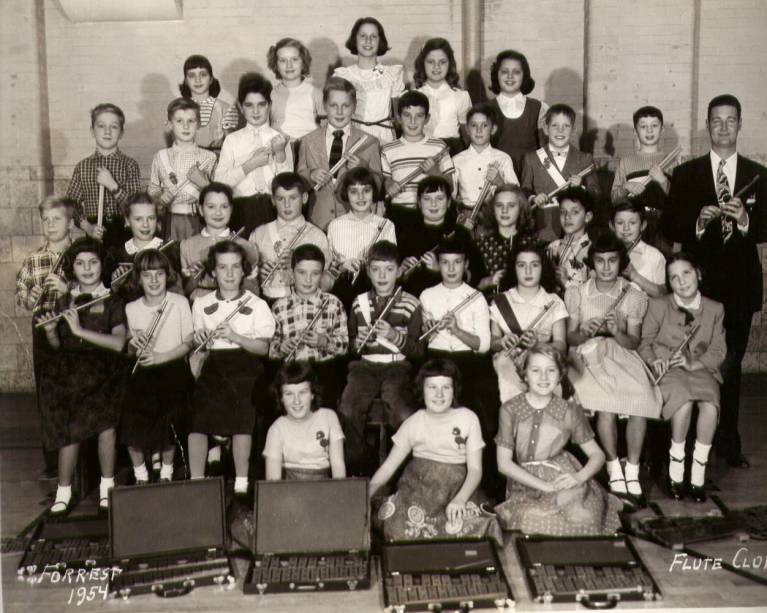 Forrest 1954 submitted by Susan (Basileo) Mancini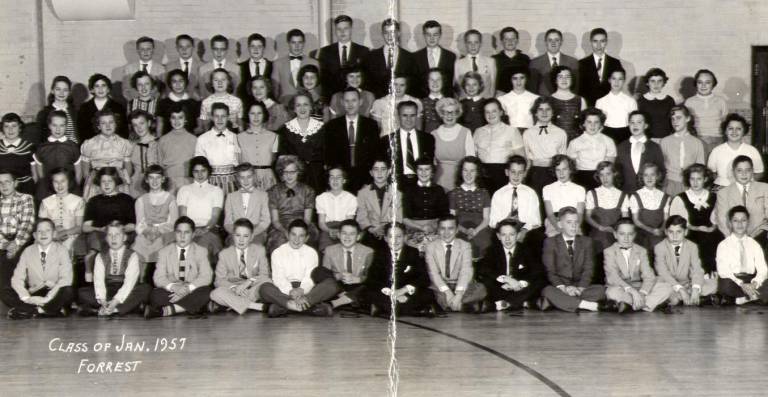 Forrest 1957 submitted by Susan (Basileo) Mancini


Hamilton Disston Elementary 1981 - 82

Photo provided by Matthew Carroll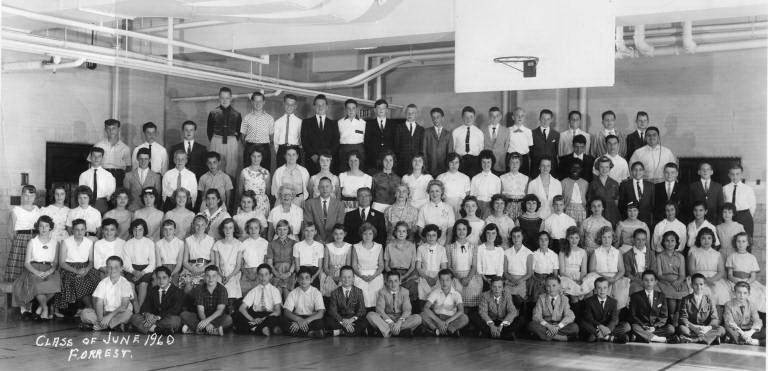 Forrest Elementary June 1960

Photo provided by Virgina Connoly - second row ninth from right


Mayfair Elementary January 1956

Photo provided by Marion Zabarsky Werner
Names provided by Chuck Greiman
Top row (L to R) ?, ?, Bill Mitchell, Richard Tannebaum, Frank Muley, ?
Second row from top (L to R) ?, Bruce Goldstein, Richard Scafonas, ?, ?, Ken Zelinger, James Curione, Robert Smith, ?, John Cross
Third row from top (L to R) Concetta Fiordimondo, ?, ?, Miss. Good, Mrs. Kradoska, Nancy Tanner, Dorothy Schulz, Barbara Lerch
Bottom row (L to R) Lenora Kandiner, ?, Marion Zabarsky, Carol Fuller, Katherine Schwing, Harriet Axler, ?, Sandra Fesmier, ?
Missing from photo, Harry Bullard, Chuck Greiman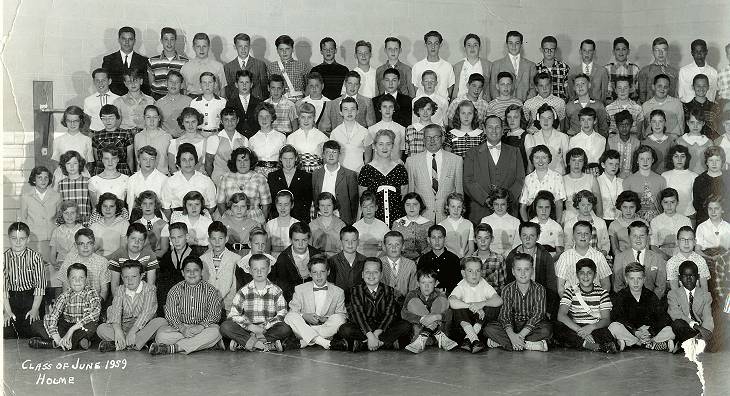 Thomas Holme Elementary June 1959

Submitted by Delores Bird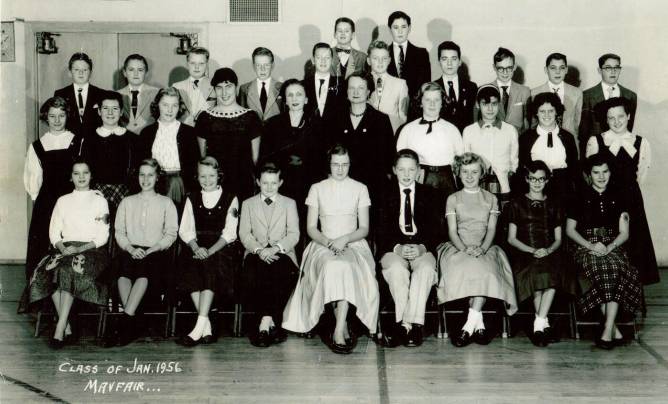 Mayfair Elementary January 1956

Top row (l to r) ?, Tom Goldman
Second row Bill Fizell, Charles Bashista, Ed Dahl, John Castellon, Ed Hantwerker, Herb Ruhl, ?, Robert Milke, James Albert, Leonard Rosenblum
Third row from top (l to r) Penny Taylor, Janice Bowes, Betty Elwell, Sheila Aronow, Miss Bruglar, Miss Good, Joyce Walters, Sandy Stesyk, Phyllis Devine, Paula Goldstein
Bottom Row (l to r) Ellen Lisovitch, Lois Zlotnik, Janet Fosler, George Nessenthaller, Betty Kealey, Ed Bartsch, Cynthia Frank, Judy Malcolm, Betty Carpino
Photo provided by Judy Malcolm Pecora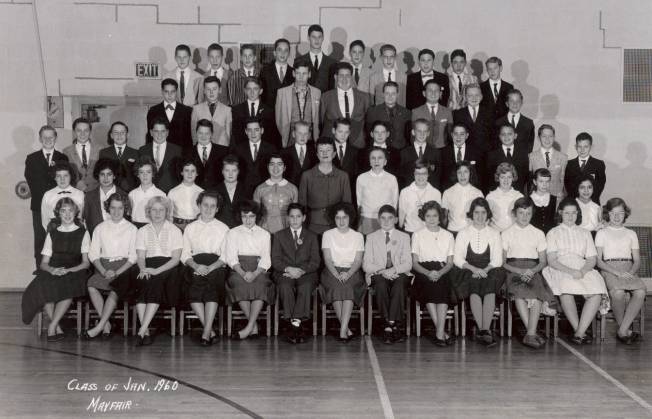 Mayfair Elementary January 1960

Contributed By Linda Haas 5th From Right First Row

Very Little Info Provided. Just These Names.

Richard Fizell, Linda Haas, Sandra Jeslinek, Arlene Kucks, Helen Lampi, George May, Grace Osten, Loretta Podolsky, Elizabeth Schwing, Linda Strohmetz, Linda Woodworth.
Ethan Allen 1948 Kindergarten
Top row L to R - Stan Broski, ?, ?, ?, Donald Sherman, ?, Homer Moyer(Skip), ?, ? .
Middle row L to R - Walter "Butch" Cinotta, ?, ?, ?, Dorothy Schulz, ?, ? , ?, ?.
Bottom row L to R - Judy Adler, ? ,? ,?, ?, ?, ?, ?.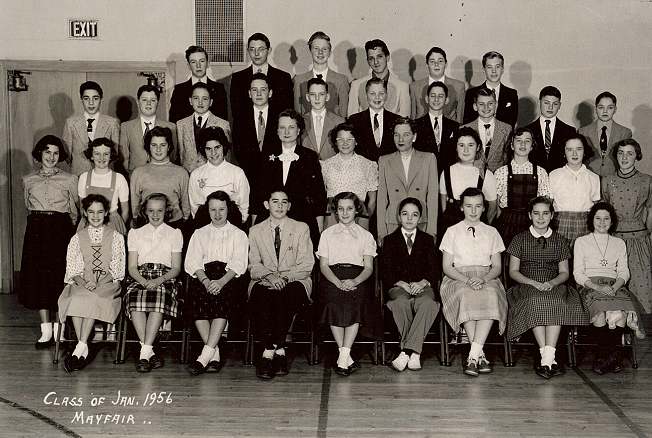 Photo submitted by Homer "Skip" Moyer
Top row- L to R. Andrew Wirtz, David Delpino, Hugh McCaffery, Tony Oteri, Donald Sherman, Homer (Skip) Moyer
Second row (from top)- L to R. John Curione, Joel Cameron, Louis Dwyer, Richard Hopf, Jack Fox, Ray Dryburgh, Leslie Kevlis, Bruce Smith, Gilbert Podolsky, Gerald Brennian
Third row (from top)- Ester Freed, Beverly Pass, Susan Weiss, Rossi Katz, Miss Good (Principal), Geraldine Aiken, Miss Cain (Teacher), Jean Walkden, Dorothy Schulz, Marge Shiels, Kathy Maund
Bottom row- L to R- Paula Cartin, Carole Pickering, Marie Mera, Philip Brody, Lynn Schwarz, Jimmie Wang, Susan Kugler, Barbara Schmitt, Rhoda Gorelick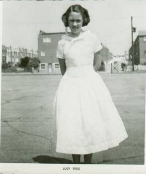 Dee Boudwin Forrest Playground 1955.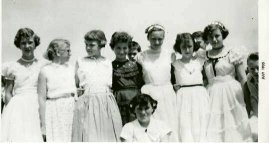 June '55 graduation from 6B - Nancy Bates front kneeling. Suzanne Woodward 2nd from left, Sherry Osser center, Betty Moser second from right - names escape me!!!!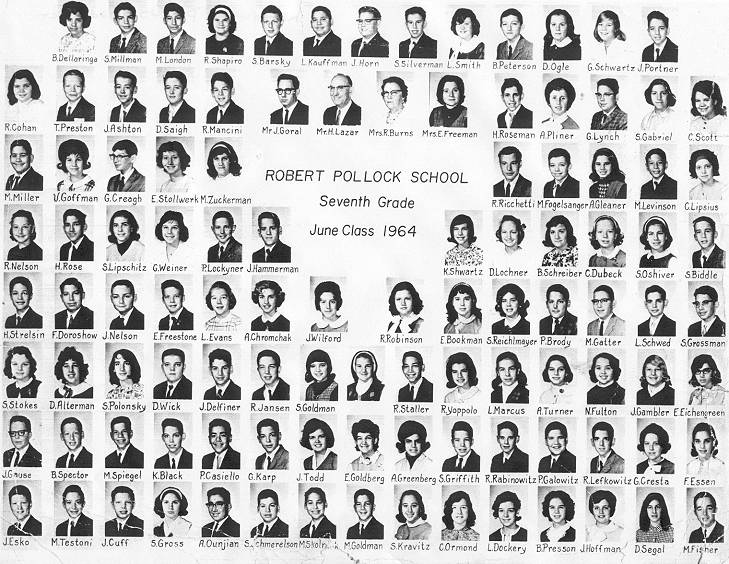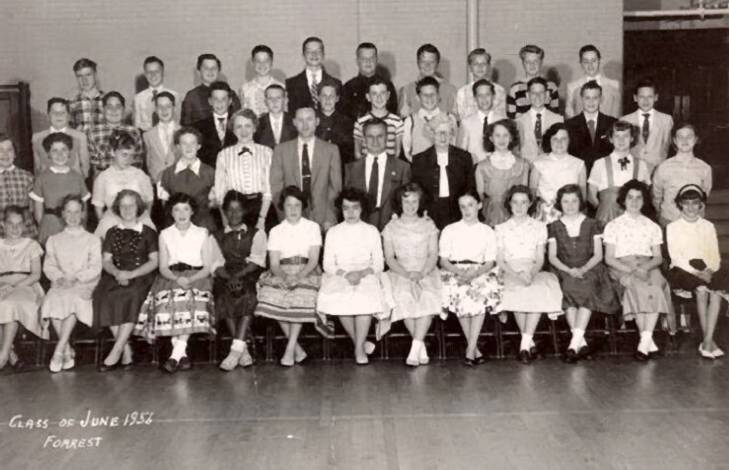 Forrest Elementary June 1956
From the top left
Ron Davenport, Charles Bulicz, Joe Heibling, John Mawhinney, Charles Quenzer, William Knoll, Robert Poate, John Toth, Richard Smith, Kenneth Ruch, Ray Ingham, Bob Strimple, Ron Oehmig, Eric Trull, Paul Hand, Richard Nugent, Tom Pancoast, Wayne Wiggs, Ed Wintrobe, Bruce Trout, Charles Miller, Jerrold Czech, Marianne Vernon, Sherry Osser, Elmira Wiren, Marsha Slimmer, Mrs. Peterson, Mr. Boyer, Mr. Giuliano, Mrs. Wanker, Carole Lange, Nancy Bates, Barbara Northcote, Ruth Senior,Geraldine Bend, Nancy Stahl, Suzanne Woodward, Joyce Simonson, LaVerne Turner, Dee Boudwin, Pat DeMarco, Sandra Nise, Betty Moser, Florence Stamberger, Eileen Carroll, Libby Golden, Joanne Galdi , Ray Schearer (not present for photo)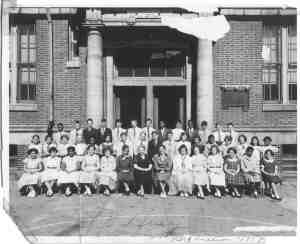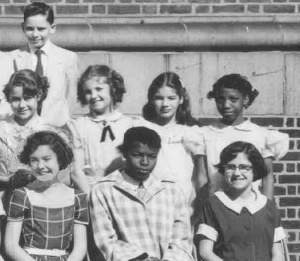 Samuel B. Huey Class of June 1954 Blow up of photo on left, Peggy Chapin front row left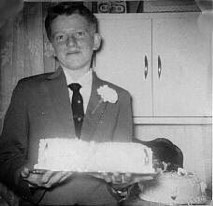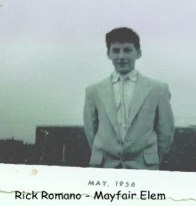 Jean Bates June 1961 Crispin Harry Bullard Jan. 1956 Mayfair Rick Romano June 1956 Mayfair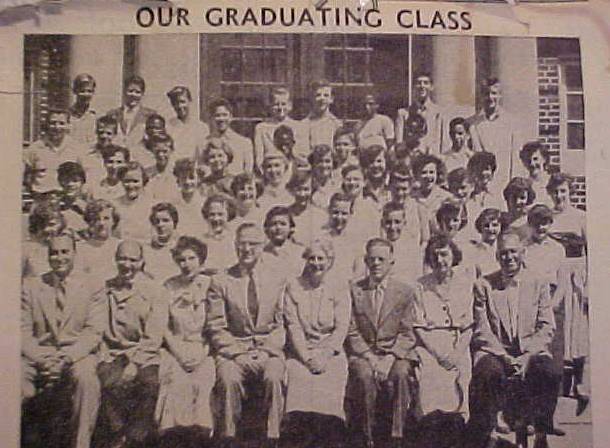 Disston Elementary June 1954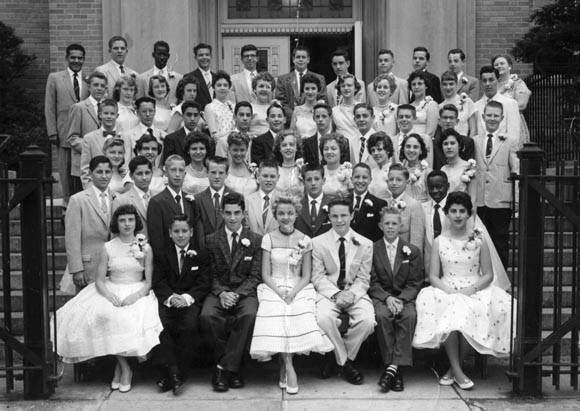 Brown Elementary
Graduating Class - June 1956
FIRST ROW (left to right ) Carolyn Faunce , Norman Rubin , Ian Abarbanel , Loverne Zarnowski , Richard Conseur , John Fisher , Marilyn Braverman, SECOND ROW Joseph DePalma, Nicholas DePalma, Robert Kabriel, Joseph McNamee, Larry Forrest, ?, Howard Cohen, ?, ?
THIRD ROW Nadine Karnow, ?,?, Lynn Raupp, Joyce Goodfellow, Lydia .., Judy Grumell, Arlene Schaeffer, Marsha Rudnitsky
FOURTH ROW David Humphreys , ?, Martin Mancine, ?, Fred Lustig, Robert Crawford, Arthur Specht, Roy Dietz, ?, ?
FIFTH ROW Roy Dewhirst, Charlotte Ferree, Sandra Matus, ?, Peggy Chapin, Barbara Cummings, Lenore Shaper, Beverly Dennis, ?, Barbara Schwartz, Thomas Lipsey
TOP ROW Teacher/Principal ?, William Brenneman, ?, Thomas McBride, Thaddeus Kulpinski, ?, Charles Schickling, Thomas Enoch, Gregory Kauriga, John MacIntyre, Principal Miss Anderson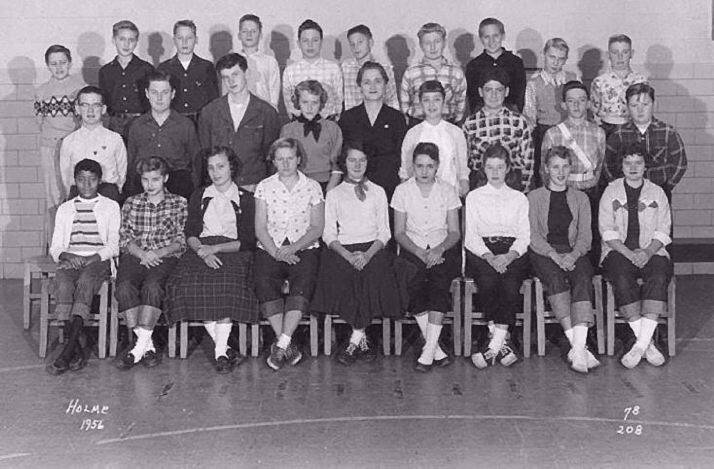 Thomas Holme Elementary January 1956
Teacher: Mrs. Porter Boys: Rusty Taxis, David Pallet, Chuck Lehman, George Baurle, Jimmy Chamberlain, Tom Kelley , Jack Challenger ,
Herby Schwarz, Bobby Boone, John Ulery, John Mahoney, Harry Hagen, Bart Cavillaro, Andy Davis, Harry Moyer, John Jensen
Girls: Gail McDermott, Barbara Neumester, Delores Diggs, Judy Baldwin, Carol Damis, Linda Schultz, Janet Erny, Joyce Leck, Jerry Stafford
Florence McCreary, Arlene Buch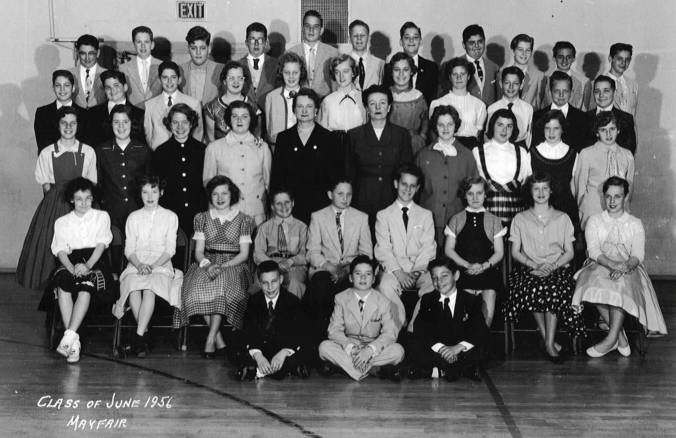 Mayfair Elementary June 1956
Left to Right
1st Row, Floor
Wayne McGackey, Guilford Satterfield, Tom Schultz
2nd Row
Joyce Killen, ?, Elizabeth MacFarland, Rusty Taxis, Nelson Beers, Bob
Maurer, Penny Roach, Cynthia ?, Pamela Hindelang
3rd Row
Marsha Bluebond, Florence Sauter, Eileen Sherwood, Principal Miss Good,
Teacher Mrs. Gentry, Mrs. Kradoska, Joan Brenner, ?, Ann Cody
4th Row
Harvey ?, Michael Berger, Stuart Chase, Helen Dickson, Lorraine Curry,
Elaine Fehrle, Linda Werner, Linda Jones, Frank Braun, David McElvrey,
Tom Greathead
5th Row
John Tumello, Tom Cope, Richard Phillips, Tom Lavender, Donald Johnson,
Charles Silcox, Bob Weishadel, Clifford Oshana, Ed Martz, Jim Hangidakis,
?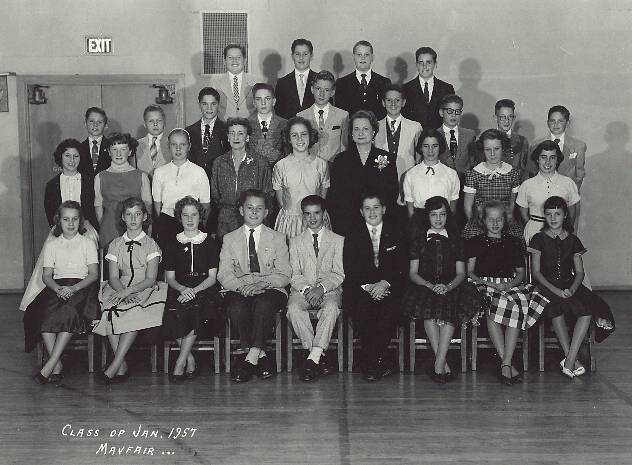 Mayfair Elementary January 1957
Left to Right
Top row:
Paul Mike Edgar(Ned) Stan
Keyser (or Jim) Simmons Marks
Clancy
2nd from Top:
Crawford John ? William Dwight ? Robert David James
Withers Warner Higham Pritchett Griffith Gray Squires
3rd from Top:
? ? ? Mrs. Hilda Miss ? Charlotte Susan
Brightway Pohlmann Good Smith Friedman
Bottom row:
Norma ? ? Fred ? James Anyce Marie Joyce
Fieth Haas (or Mike) Kupstow Forgrave Watson
Clancy
Disston Elementary June 1957
1st Row Lois Bowman, Peggy Mills, Joann Haskins, Brenda Johnson, Judy Snellbaker, Janice Foulds, Marilyn Wolf, Barbara Howard, Helen Rowan, Barbara Perkins
2nd row Robert Graff, Ray Englehart, George Baumgartener, Lee Dubeck, Harry Collins, Jack Evans, Bill Potoczny, Edward Reed, Mildred Baldwin, Marilyn Trimble
3rd Row Paul Riley, Ralhp Sabatino, Harry Grabauer, Bill Harden, Harold Vaughn, Alan Matthews, Ray Tomlinson, Tillman Avery, Donald Sommers

Solomon Solis-Cohen Elementary School
Graduating Class Of 1950
(L) = Graduate of Lincoln High
1st row: Howard Blum (L), Wilson Heath, Harvey Waldman (L), Carl Wilson, Arnold Oblon (L), Robert Green, Paul Skversky, Howard Rivitsky, Sam Kritzstein, Joel Seidel (L), Bernard Levy (L), Joseph LoCicero, Edward Schneider, Bill Mounce, Allen Isenberg.
2nd row: Maxine Alberts (L), Geraldine Dickman (L), Martine Thorp, Sandra D.Cohen (L), Hannah Jaffee, Sally Royle, Francine Spiegel (L), David Clark, Barbara Brown (L), Marlene Mueller, Beverly Heller, Natalie Kanefsky, Barbara Miller, Jean Bennett, Ann Carol Prybutok.
3rd row: George Weymouth, Ethel Scharf (L), Betty Stoneseifer, Ethel Blum (L), Sandra Wichner, Bernice Beck (L), Ruth Bell (teacher), Eugene Cheskis, Edward B. Thiele (principal), Jimmy Gailey, Walter Kealey (teacher), Sally Jane Cole (L), Dorothy Reinhardt, Lois Pritzker (L), Barbara Lavery (L), Sandra Podolsky (L), Jimmy Sanford.
4th row: Jack Rabin, Richard Gayer, Murray Levin (L), Bruce Rapaport, Robert Biskol, Steven Tucker (L), Michael Brenner, John Ehmann, Donald Rosenberg (L), Albert Day, Bill McWade, Barry Greenberg (L), Robert McClelland Jr, Leonard Werner, Melvin Grizer (L), Paul Cohen.
Not in photo: Sandra Hersh (L)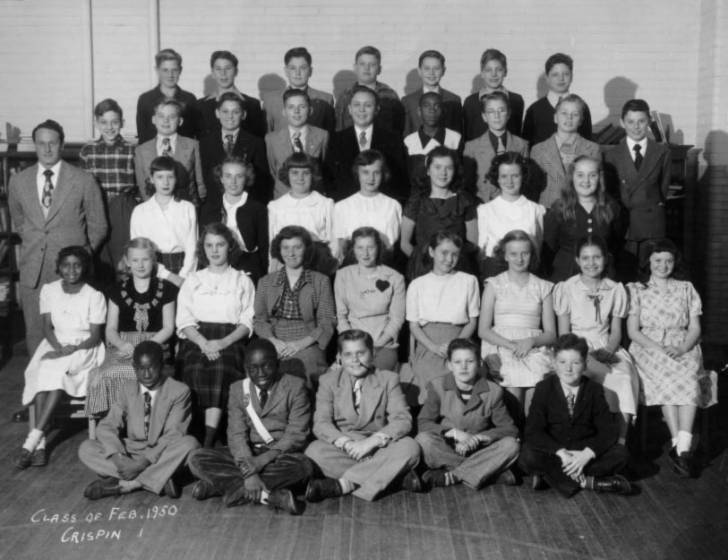 Crispin Elementary
Graduating Class of February 1950
1st Row: ?, ?, Ralph Barnett, Bill Hardemann, John Emery
2nd Row: Gladys Jefferson, Dolores Kiefaber, Mary Breen, Janet Hagen,Elenor Stewart, Peg Davidson, Marie Hanlon, Terry Kasser, Clara eller
3rd Row: Mr. Berk, Carol Rawson, Lois McNally,Nancy Moltz, Veronica Hornbaker, Loretta Clemons,Martha Scott, Kay Diem
4th Row: Lloyd Hutchinson,?, ?, Robert Decker,?,Bill Scroggen, ?, ?, Calvin Hunter
5th Row: Bill Seeger,?, Andy Yoder, ?, ?, ?,Richard Vallone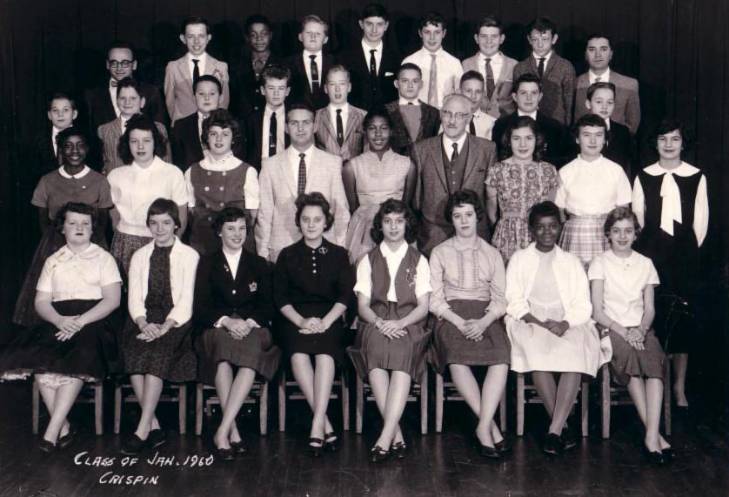 Crispin Elementary
Graduating Class of January 1960
1st row l to r Martha Emery, Patty Pettruzelli Lynn Walton, Helen Wertz,Maryann Madrigale, Jean Douglass, Maryann Fortson, Connie Borucki
2nd row l to r Linda Booker, Kathleen Mignone, Lynn Blocksom, Mr. Leggieri,Barbara Dorsey, Mr. Fisher, Charlyn Guthapfel, Lorraine eRocco, Barbara Stevens
3rd row l to r Vincent Veitz Dennis Vallone, Walter Bean, Jay Kennedy, BillReiter, Dave Fuller, Don Nolan, Tom Abel, Rich Cifelli
4th row l to r Mr. Plottel, Charles Manning, John Fields, ? ? ? ? , Mr.Rovner .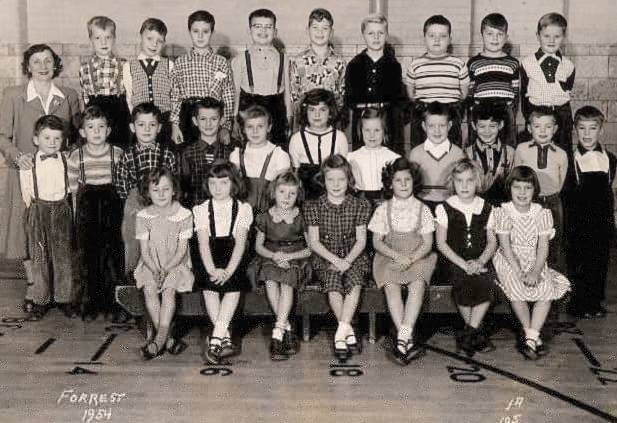 Forrest School 1954 - 1A
Mrs. Fisher,
Second Row Far Left Rick Taggart, 9th From Left Tom Cancelliere, Far Right Bill Rosner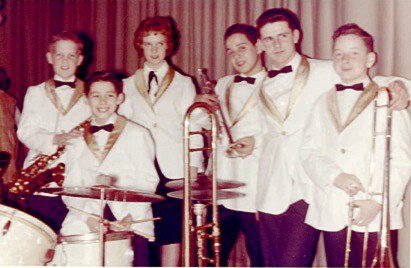 Forrest School February 1961
Dixieland Band- The Royals
left to right: Ron Winward, Tom Cancelliere, Gerardine Sullivan,
Martin Seroter, Jay Johnson and Donald Sharp
1958 Forrest School Orchestra
Mrs Wenker & Principal Mr Guiliano, Jay Johnson ( baritone, Forth from left top row) Kurt Theil ( sax, forth from left, first row)
Tom Cancelliere ( drums, first person from left, third row) Donald Sharp (trombone, third person, third row from left)
trumpet Martin Seroter (third row, fifth person from left)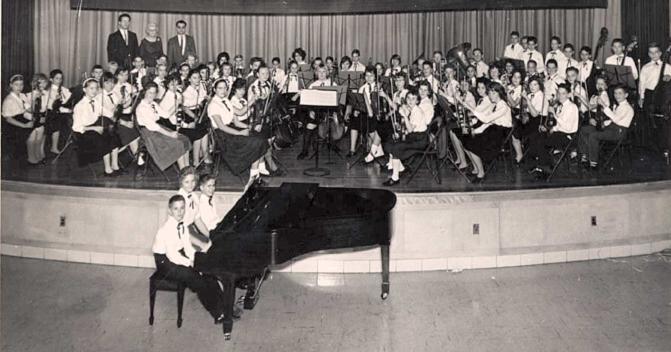 1959 Forrest School Orchestra
Gay Agster and John Walker on Piano. Rich Taggart & Tom Cancelliere ( Percussion Section )
Ron Winward & Kurt Theil On Sax.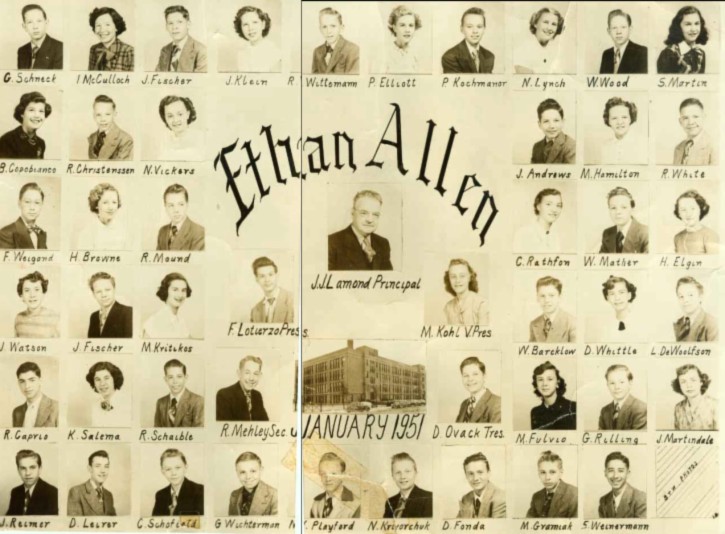 Ethan Allen Class Of January 1951
Top Row Guy Schneck (L) - Irene McCulloch (L) - Jules Fischer - Jane Klein (Singer) (L)- Bob Wittemann (L) - Pat Elliott (L) - Paul Kochmanor - Nancy Lynch - Walt Wood (L) - Shirley Martin (L)
2nd Row Bunny Capobianco - Bob Christenssen - Norma Vickers - Jim Andrews - Mary Lou Hamilton (Leitch) (L) - Bob White
3rd Row Frank Weigand (L) - Helene Browne - Raymond Mound - Carol Rathfon (L) - Walt Mather - Helen Elgin (L)
4th Row Joan Watson Schock (L) - Jim Fischer - Margaret Kritikos - Frank Lotierzo - Peg Kohl (Evans) (L) - Bill Barcklow - Dottie Whittle (Goldsmith) (L) - Len DeWoolfson
5th Row Bob Caprio - Kass Salema (Fife) (L) - Dick Schaible (L) Dick Mehley - David Ovack (L) - Myrna Fulvio (Schneider) (L) - Gerhard Rilling (L) - Joan Martindale
6th Row Jim Reimer (L) - Donald Leirer - Creighton Schofield - George Wichterman (L) - Norman Playford - Nick Krivorchuk (L) - Dino Fonda - Myron Gramiak - Sid Weinermann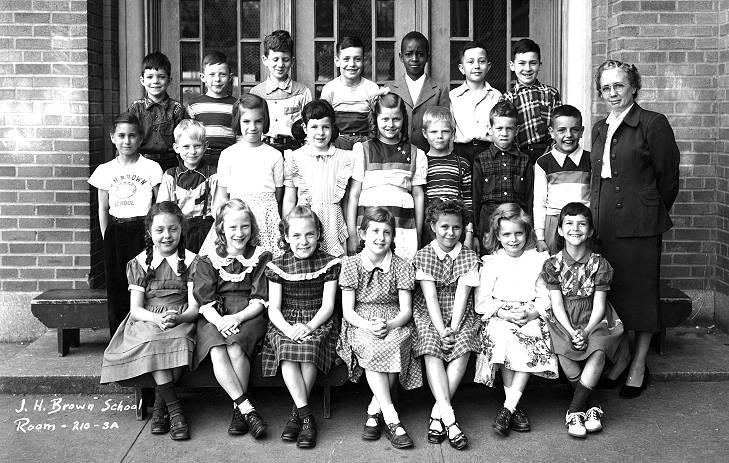 Brown School 1954
Back Row ?, ?, Richard Boysen, Joe Bussmann, Robert Downer,David Erbring, Howard Mall
Middle Row Jay Mann, Stanley Yankoff, Susan Siffling, Susan Gisser, Carol Dewey, Robert Peters, George MacIntyre, David Andrews
Front Row Mary Beth Hughes, Francis Day, Dorothy Pattison, Patricia Brown, Barbara DeStacio, Hazel Strewart, Sandy Pearlman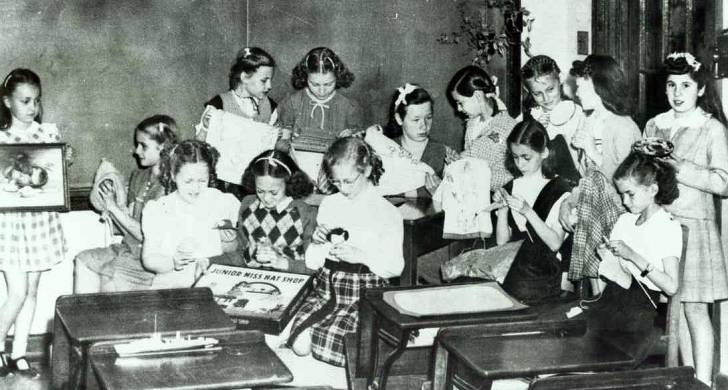 This is from Ethan Allen Elementary School. Probably around 1947. We think around 4th grade.
Standing L to R: Norma Vickers, Anna Dechet, Carol Rathfon, continuing left sitting next to Carol is Irene McCulloch. Billie Bodinger, Peg Kohl Evans, girl with head turned next to Peg is Shirley Martin, Kass Salema Fife
Seated L to R: Patricia Elliott, Mary Lou Hamilton Leitch, Myrna Fulvio Schneider, ?, Judy Allen and Dottie Whittle Goldsmith.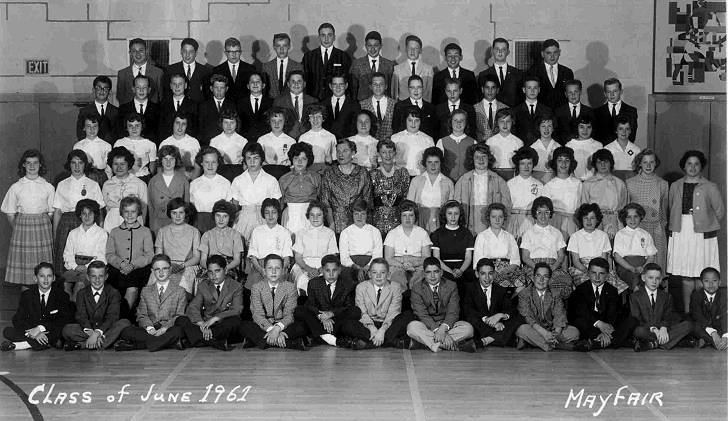 Mayfair Elementary Class Of June 1961
First (Bottom) Row L to R Richard Axler, John Thomas, Craig Gardner, Stephen Solop, Robert Sugent, Michael Gilber, Gary Freitag, Alan Fried, Steven Schwartzman, Kenneth Jerome, John Honish, Richard McGeary, Gordon Hom (Lee)
2nd Row Nancy Collins, Margie Hoffman, Linda Strunk, Susan Rochelle, Esmina Argerakus, Kathryn Johnson, Paula Stuart,
Rochelle Greenberg, Linda Petti, Janis Scott, Barbara Schatz, Doris Pure, Michelle Young
3rd Row JoAnne Welte, Meta Sklar, Carol Fragassi, Anna Martz, Suzanne Reese, Karen Strometz, Marlene Unterberger, Miss Alice Cain
Mrs. Dorothy Kradoska, Dorothy Obert-Thorn, Barbara Keyser, Linda Burbeck, Deborah Kohler, Linda Taub, Paulette Carlson, Marilyn Meyers
4th Row Patricia Tartaglia, Vick Merzig, Emma Henfey, Deborah Greiss, Susan Trout, Evelyn Koons, Susan Spiese, Merele Farcus,
Carol Samrock, Donna Youse, Kathleen Goodyear, Virginia Brustle, Elizabeth Schmid
5th Row David Leporate, Robert Carr, John Lindermin, Donald Courson, Joel Smith, Stuart Ellis, Thomas Bowes, William Bailie
Terry Sullivan, Wayne Harrell, John Vosbikian, Robert Suter, Glenn Schaaf, Philip Eyer
Top Row Albert D, Theodore Bloch, Walter Kosherack, Walter Wites, Murray Cantor, Edward Tarknarian, Paul Runyon, Joseph Arena
Thomas Gordon, William Mann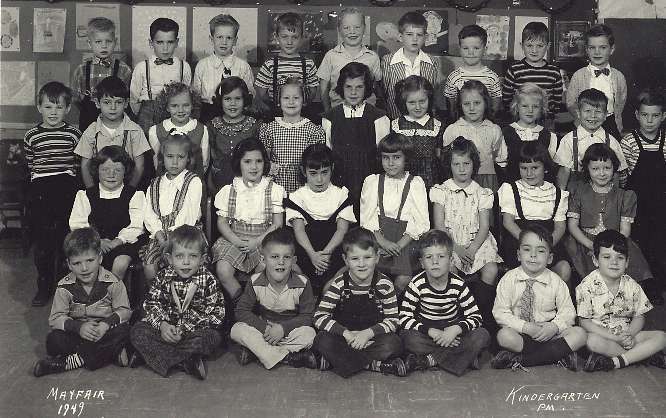 Mayfair Kindergarten Class 1949
Submitted by Stan Marks Top Row 2nd from left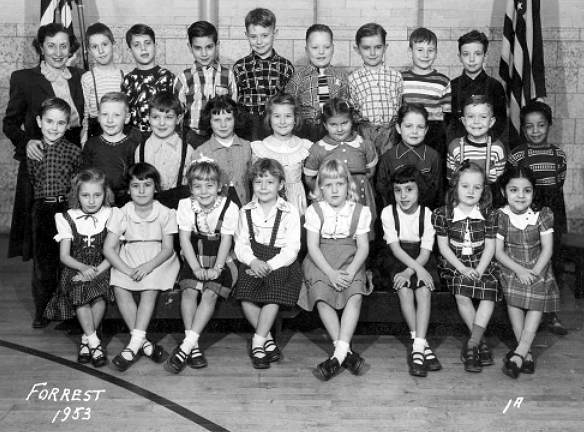 Forrest Elementary 1953
Submitted by Ben MacDonald June 1964
Forrest Elementary 1956
Submitted by Ben MacDonald June 1964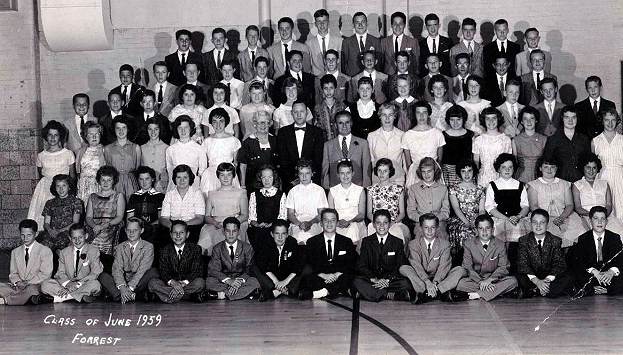 Forrest Elementary 1959
Submitted by Ben MacDonald June 1964